PC-based control as a complete solution for automating packaging lines
Paolo Costi, Regional Sales Director of Beckhoff Italy
04/21/2022
The Italian group ESN Group specializes in integrated solutions for the automation of packaging lines, which include labeling, packaging, palletizing and handling of products within a production line. The company relies on drive and control technology from Beckhoff in every phase and is convinced that its transparency, flexibility and high quality standards make it the ideal choice for the requirements of modern modular mechanical engineering. He also appreciates the close collaboration that has developed with Beckhoff since the first project.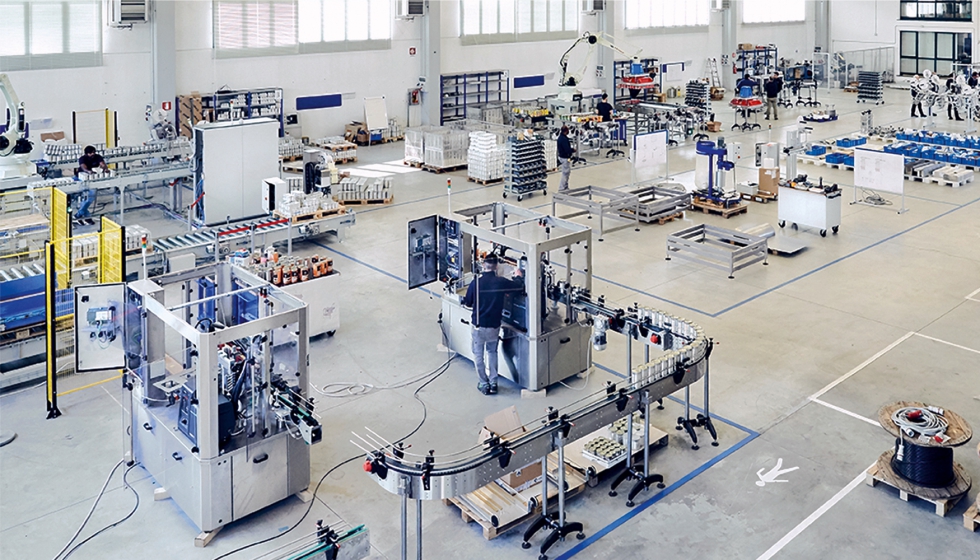 Based on a modular machine concept, the ESN Group manufactures customized end-of-line packaging solutions for a variety of industries. Photo: ESN/Marco Mussi.
The history of the ESN Group is that of a classic start-up: Founded just four years ago in Treviglio, northern Italy, ESN (Engineering Service Network) comprises a number of specialized partner companies with all their knowledge and experience. The results are tailor-made end-of-line turnkey solutions for packaging processes, which specifically include machine modules for labelling, primary and secondary packaging, palletizing and handling in the food, chemical, pharmaceutical, food and beverage, pet food and minerals industries oils etc
Focus on medium and low machine cycles
Our goal is to mainly serve customers in the low and medium speed machine segment, explains engineer Glauco Cima, co-founder and CEO of ESN. This market segment offers real potential for innovation and increased performance with the help of modern automation technology.
The philosophy of ESN is expressed in a particular interpretation of the term End of the Line: the packaging process is not conceived as several interlocking machine modules, but as a modular and integrated system capable of conveying detailed information about its operation through a combination of classic automation systems and modern combined OT/IT architectures. Many companies simply combine different individual machines, explains Glauco Cima the basic problem. However, this approach lacks valuable and crucial information for the management and performance of a line in shift and production management.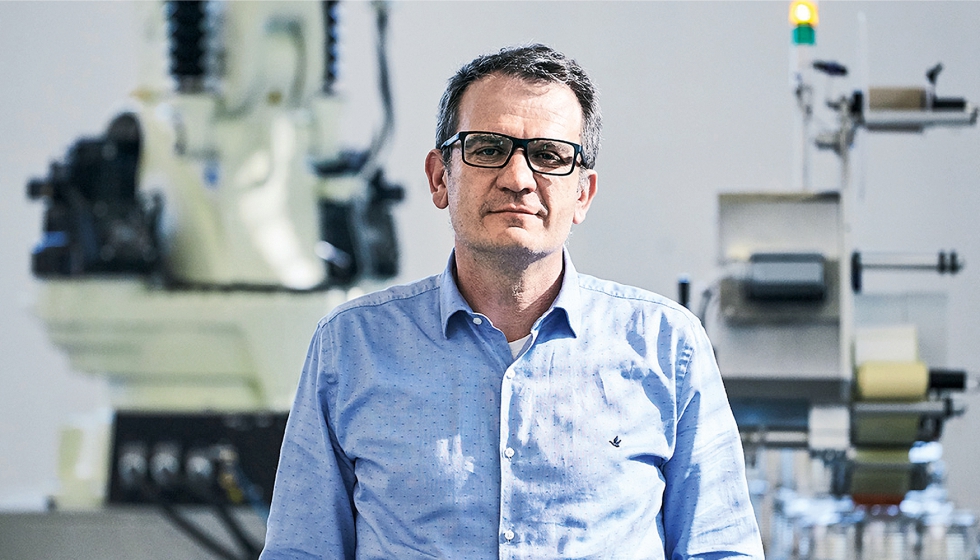 Glauco Cima, CEO of the ESN Group: From a technical point of view, Beckhoff automation solutions represent the best on the market in terms of quality, modularity, compactness and openness to all common market standards. Photo: ESN/Marco Mussi.
ESN's end-of-line system concept includes all necessary aspects for the end-of-line packaging process:
Correct labeling and controls
Product Quality Controls
manipulation
palletized
secondary packaging
country control
Country Coding and Tracking.
The integrated management of each of these workflows in our concept is so important because it gives end customers all the information they need in real time, embedded in the rest of the production environment, explains Glauco Cima, underlining the modular approach. Such a variable concept requires equally modular, open and flexible automation technology. And against this background, the PC-based controller from Beckhoff has proven to be the best solution to put all this into practice.
Technology provider and automation partner
We are familiar with systems from other suppliers, but we were looking for a solution that is reliable, simple and open, emphasizes Glauco Cima. This ruled out classic SPS from the outset. But there were also other aspects to consider: as a start-up, we were looking for a very dynamic type of support, especially at the beginning, explains the CEO of ESN, and Beckhoff really was and is one of the most dynamic companies there. This not only applies to innovation and market orientation, but also to supporting companies with special projects and requirements, such as ESN.
According to Glauco Cima, from a technical point of view, Beckhoff automation solutions represent the best on the market for ESN in terms of quality, modularity, compactness and openness. They are also perfect for the machine builder's automation philosophy and the typical motion requirements of the packaging industry. I also have to emphasize that our cooperation with Beckhoff was very close right from the start and that this trust is very important to us, says the ESN CEO. "For our projects, we only use automation technology from Beckhoff, from the drives to the decentralized I/Os and from the TwinCAT automation software to the operator panels."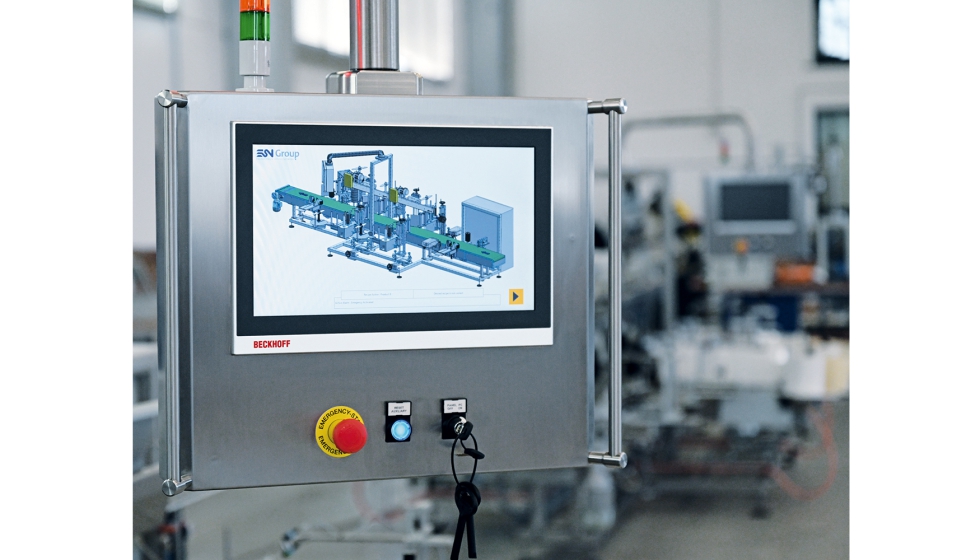 A Beckhoff Panel PC such as this CP27xx serves as the controller in each machine module. Photo: ESN.
A modular system for modular machines
In ESN's typical end-of-line concept, each module uses a panel PC as the controller: an integrated multi-touch unit CP27xx or an economy touch version CP67xx. Glauco Cima explains: We chose to combine the four components into a modular system, which means that the end of the packaging line resembles a network of compact panel PCs that communicate closely with each other for maximum performance, traceability and quality control. Without this modular approach, it would have been difficult to achieve this goal cost-effectively and without significant effort.
ESN's entire automation concept is based on TwinCAT software, which is also compatible with quality control applications such as vision systems. This openness of TwinCAT also makes it possible to integrate external projects that were developed in C++ or Python, for example. Depending on the specification, the control architecture can process an almost unlimited number of I/O data points that are connected via EtherCAT Terminals or Box modules. If required, third-party controllers can also be seamlessly integrated via the EK1100 EtherCAT Coupler. This openness of the system enables line extensions to be carried out without changes in the automation technology, a fundamental aspect for ESN projects. Furthermore, Beckhoff's compact drive technology is used in the form of EL72xx servomotor terminals and AM81xx servomotors as well as AX5000 servo drives with AM8000 servomotors. This is where Single Cable Technology (OCT) comes into play to minimize both wiring and installation effort.
The high performance of EtherCAT and PC-based control offers a number of additional advantages, for example, ESN was able to develop an innovative quick-change system for grippers that reduces production line downtime by allowing I/O signals to be momentarily interrupted during operation.
Partner companies bring their respective know-how to the ESN Group and apply it with the help of Beckhoff technologies and components to create customer-specific end-of-line solutions that can be seamlessly integrated into modern OT/IT environments . Photo: ESN/Marco Mussi.
Commissioning of machines in record time
The many features of the Beckhoff technology also shorten the project development and implementation time, as Glauco Cima explains: This is a very important aspect in order to be able to offer customer-specific solutions based on a standardized architecture. This philosophy was transferred equally to the mechanical and electrical components of the system. Therefore, ESN's quest for modularity begins with the design process; only at the end is the line specialized, almost tailor-made for the process. The Beckhoff PC-based control also makes a significant contribution to the implementation of this engineering philosophy, as Glauco Cima confirms: This type of automation fits our concept perfectly and offers a suitable modular platform to pursue exactly this approach in the field development of all projects .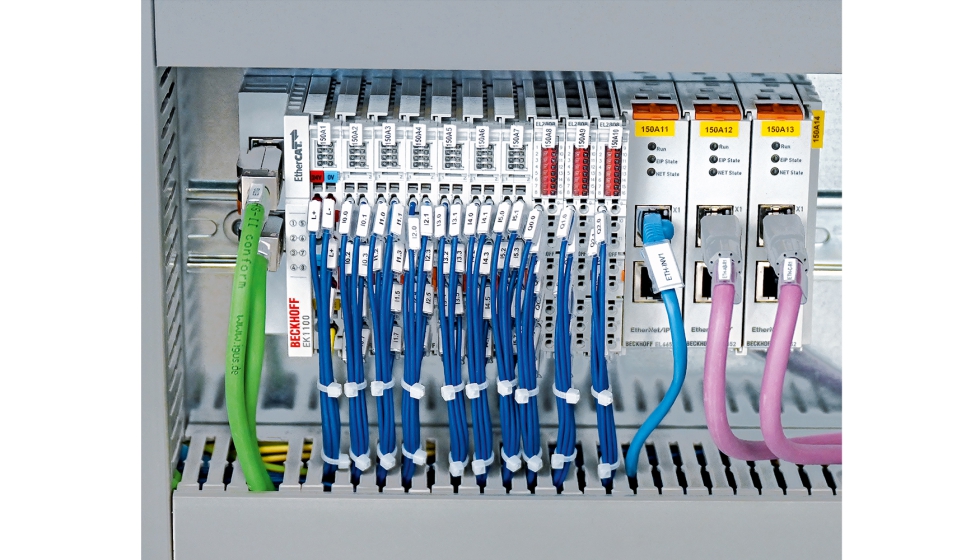 The large selection of EtherCAT I/O components, including the EK1100 EtherCAT Coupler shown here, EtherCAT HD Terminals and EL6652 EtherNet/IP Master Terminals, enable seamless integration of all required signals, even in heterogeneous systems. Photo: ESN/Marco Mussi.
Intelligent modularity becomes mandatory
For Glauco Cima, there is no alternative to this concept: the packaging industry is changing rapidly, as are all sectors based on advanced technology. He is convinced that the mechanical elements of a machine will become less important in the coming years. Architectural limitations and barriers within companies will gradually disappear and production must be flexibly programmable. As a result, modularity is becoming a fundamental feature of a machine, and in any application where mechanics prevent such an approach, electronics and reprogramming will remove, or at least circumvent, this constraint. The technologies offered by Beckhoff are perfect for this, but they are often not used to their full potential, says Glauco Cima.
Against this background, the future development of the ESN Group is closely linked to the innovation dynamics at Beckhoff. From the beginning, our choice was based on the continuous innovations driven by Beckhoff and today we have no doubt that Beckhoff is our ideal partner and will undoubtedly remain so for many years to come, concludes Glauco Cima, confirming the group's commitment to this one strategic connection.
Affiliated Companies or Entities